RPL Kit Launch with Tanya Arnold
Tanya Arnold, Look North's Sport Correspondent, at the launch of the new RPL sponsored football kits!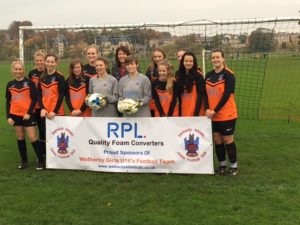 Tanya very kindly stayed after the photo session to do an answer and question session with the girls. What an eloquent speaker she was- incrediably knowledgable and great fun.
Thank you to Colin and Fiona who very kindly organised the amazing banner for the day……despite the awful weather it really was a great experience for both the parents and children alike.